Rugby Post – Carry Bag 2.8m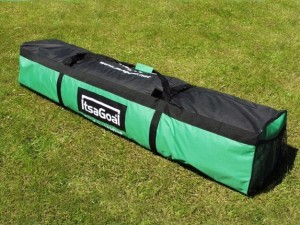 Rugby Post Carry Bag 2.8m
Rugby post carry bag which are long lasting, hard wearing nylon that out performs any other current rugby post bag.  With double thickness base that has lateral and vertical strengthening straps , wrap around buckle fasteners to hold rugby post sections together to prevent movement inside the bag which alleviates wear and tear and extends the life of the bag .
A full length zip ensures no components are lost and two central strap handles allow one or two club officials or players to carry the goal. This prevents the bag from being dragged along the floor from one end as is the case with bags with handles on each end.
The bag can be used in any family car by lowering the front seat back and laying the goal bag onto the seat or by pushing the front seats forward and introducing the bag from the rear doors.
The rugby bag is 2800mm long x 275mm x 275mm
Qty – Single
Product Code: 1013
---